Results are impressive the first time you use the Mole Hill Destroyer, and the benefits increase over time.
Grooming your pasture and hay land regularly:
levels hills left by moles, gophers, badgers and other burrowing animals, leaving only their holes,
breaks up accumulated piles of dirt and manure and spreads them evenly across pasture and hay land,
leaves loose mulch so grass can quickly re-establish itself,
smoothes fields, speeding up haying, saving you equipment repairs and downtime, and
extends the productive life of your grassland from 3 or 4 year to 10 years or more.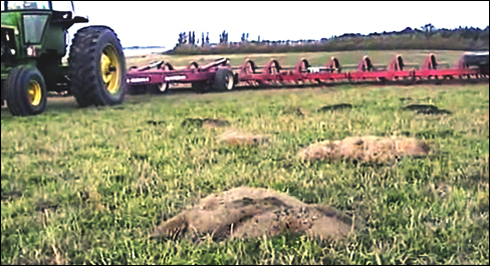 The Destroyer can level molehills and spread manure at approximately 5 mph and be used without damage until new grass is 6 to 10 inches tall. Grooming in spring destroys dry, brittle old growth, which means you won't be cutting and baling old hay with new. Your bales will have higher protein content and contain less dirt.